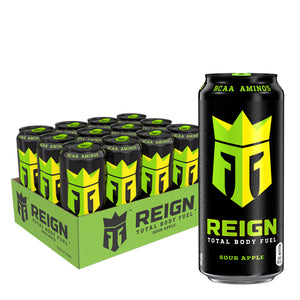 Reign Total Body Fuel Sour Apple, 16 Oz. Cans, 12 Pack
Reign Total Body Fuel™ - Sour Apple: The Ultimate Fitness-Focused Drink
Blended with BCAAs, CoQ10, electrolytes & 300mg of Natural Caffeine per can, REIGN™ Total Body Fuel is designed for your active lifestyle. Offering zero sugar, 10 calories, and zero artificial flavors & colors, Reign is the ultimate fitness-focused beverage to support your high-performance needs. For those who rule in the gym and beyond, REIGN™ has the fuel for you
Full sour apple flavor: Where sweet meets sour, pucker up for a flavor that will tempt your taste buds.
Legit ingredients for legit performance
Power through your workout: 300 mg of natural caffeine per can provides a pre-workout boost. BCAAs may help muscles recover post workout, CoQ10 helps to fuel cellular energy, and B Vitamins for metabolism and energy production.
---
We Also Recommend
---