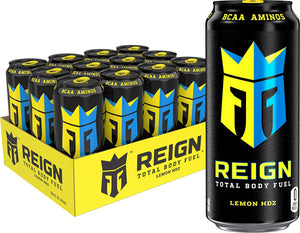 Reign Total Body Fuel Lemon HDZ, 16 Oz. Cans, 12 Pack
THE ULTIMATE FITNESS FOCUSED BEVERAGE: Blended with BCAAs, 300 mg of Natural Caffeine, CoQ10 & electrolytes, Reign total body fuel is designed for your active lifestyle. Offering zero sugar, 10 calories, and zero artificial flavors & colors, Reign is the ultimate fitness-focused beverage to support your high-performance needs.

FULL LEMON FLAVOR: A new twist on a classic treat, Lemon Hdz brings sweet and tart flavors that will brighten your day.

LEGIT INGREDIENTS FOR LEGIT PERFORMANCE: With Reign total body fuel, you'll get 6x the BCAA's, 5x the CoQ10 and 2x the electrolytes as the leading competitor.

POWER THROUGH YOUR WORKOUT: Reign total body fuel provides multiple benefits to help you power through a tough workout. 300 mg of Natural Caffeine provides a pre-workout boost as well as a sustained release of energy throughout your workout. BCAAs may help muscles recover post workout. CoQ10 may increase power during exercise. B Vitamins may reduce fatigue.

STOCK UP WITH A 12-PACK: For those who rule in the gym and beyond, Reign has the fuel for you. Available in a convenient pack of 12, so your wallet doesn't get a workout.

Due to new FDA nutrition labeling requirements, product labels may vary from those pictured.
---
We Also Recommend
---